Webmaster Peter Chatterton



The 2021 Fete will be on Sunday the 5th September in the Churchyard again.
More information will be published later if covid allows.
New facilities in the Village Hall
Forthcoming events to follow.
Anyone interested in joining the Committee see contacts page for who to contact.
Or if any ideas or requests.


Throckmorton Village Charity was set up in 1994 with the objects for the advancement of Village life and protection of its heritage and environment within the boundaries of Throckmorton Parish.
Charity Commission registration No 1040101.
Throckmorton Village Charity.
Mr C Tucker

.

Mr P Chatterton.

Mr A Kelso.

Mrs H Miller.




Advancement of Village life includes help with maintenance repairs,improvements to amenities and facilities of the village Hall including fundraising.
Help towards any facilities or amenities that would benefit the village, its people,also organisations and groups like the scouts, guides, playgroups and other charities which one way or another are associated with the village.
Protection of its heritage includes help with repairs and maintenance of the fabric of the Village Church. Help with the cost of insurance of the fabric of the church and its organ.
To help protect other historic buildings and Heritage in the Village.
Help with any historical or archaeological research and recording of the same as related to Village heritage.
Protection of the Environment includes help with any project or study of the local environment.
Help with any reasonable project to prevent damage to the environment or conversely give help and co-operation to projects aiming to improve it.
The biggest event the Charity puts on is the Village fete, the money raised pays for the insurance for the Church.
This was the first time the Charity held it in the Church grounds.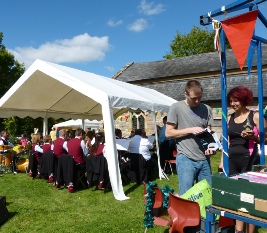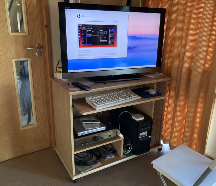 Contacts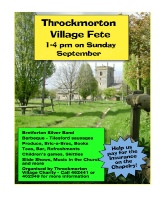 Throckmorton Village Charity runs Throckmorton Village Hall ( Parish Room ) and new additions to the room are the installation of a Internet connection a computer which is connected to a TV, which can be used for smaller presentations instead of using the overhead projector.